Volunteers Required
Attention!!!!
All health care personnel, teachers and educationists-
Doctors (GPs, specialists and Consultants in all disciplines)
Dentists
Nurses
Paramedics
Technicians-- Occupational Therapists, Speech therapists, physiotherapists, Audiologists, Paramedics, Medical physics etc.
Social workers, Carers for disabled children and for children with profound learning disabilities, mental illness etc.
Teachers for children with special needs, teachers for children with learning disabilities (mild as well profound), main stream teachers.
Play Specialists for nursery, school, hospital and orphanage for disabled children.
Students and trainees are welcome to join as volunteers and to gain work experience with us. Medical, dental and nursing students are welcome to do their electives.
We need people from all walks of life including fund raisers, event organisers, journalists and writers to help us carry this work forward and publicise the needs and work of GCHC to provide for poor, disabled and destitute in India.
Are you planning a sabbatical break?
Would you like to have holidays in India, all paid for?
Are you looking for a new adventure?
If the answer to any of these questions is YES, then you are the person we are looking for!
We are looking for doctors and specialists in all disciplines, dentists, nurses, technicians, paramedics, Social Workers( all health care personnel), teachers and Educationists willing to work with compassion and dedication to help poor people and disabled & destitute children from as little as a few days to any number of years.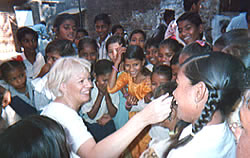 Volunteers in a rural medical camp
We can't provide the luxurious life of the Western World, but we will try to make you as comfortable as possible. We can certainly promise an experience and adventure of a lifetime. Interested? Then write or contact us now.
Students and trainees are welcome to join as volunteers and work with us to gain work experience or for doing their electives or internship. Please contact -
Dr B.K. Sharma,
Gwalior Children's Hospital Charity,
14, Magdalene Road,
Walsall,
WS1 3TA.
Tel.(+)44 (0)1922 629842 Fax. (+)44 1922 632942
E-mail: gwalior.hospital@care4free.net
24 hr. answer service: 01922 616316
You can also visit www.helpchildrenofindia.org.uk
Please read recent updated news, events or reports from our volunteers for their experiences with us as well participate in discussion with other volunteers or post your questions, opinions and comments on http://gchvols.pbwiki.com which is updated more frequently. You can design your personal fund raising page for any event or occasion to raise money on line to help us in this endeavour at http://www.justgiving.com/gwalior/raisemoney/ For orientation or personal discussion, you are always welcome at your convenience or join us for our bimonthly meetings or if you will like to talk to some of our past volunteers for orientation please contact through http://www.snehalaya.net and never hesitate in asking us for any questions or further details or if you need any help or guidance for any thing as required
Summary information for prospective Volunteers -
"Many thanks for your interest and writing to us. You are most welcome to work with us as a volunteer for any duration as per your convenience as well help us in fund raising to carry these works forward, which in turn helps in publicising the needs and work of GCHC, a commitment requested of all volunteers with us. I am sure your support with expertise and experiences available will help to provide such services in a better way with a long lasting effect as well to train our local staff and students, more so now with added facilities through "Snehalaya, the school for special needs, Vocational training centre, rural hospital, integrated rural development work, farms, gardens, poultry, bird house, cow shed and orchards there" to our already existing facilities for long of hospitals, rural health centres, mobile hospital, Sun rise school and support work in existing schools and Orphanages. Irrespective of whether you can come and volunteer with us at Gwalior or not, we request for support with fund raising and publicity to help us carry these works forward. Now you can also join our volunteering programme from your own place providing advise, consultations, counselling and training through our help line and ICTC with video conference facilities. Here follows the summary of our volunteering programme-
Thanks for your interest in GCHC and its work. There are no restrictions as such. We believe that love and care neither has any boundaries nor needs any language or qualifications. Our work includes schools and orphanages too in addition to hospitals, hospice, rural hospital and mobile hospital with rural health centres to provide health education and health care services in rural areas and urbanised slums. In addition to experts and experienced persons in their respective disciplines, students and trainees are welcome to gain valuable work and life experiences, which may open new horizons and even may change perspectives for future. Our volunteering programme is self funded and we depend on volunteers for fund raising as well for publicising the needs and work of GCHC to help us carry these works further. Please pass on this request to everyone as you know or meet every day as well write to newspapers, magazines and websites for publicity. Please read the FAQs as available with more updated news and reports at http://gchvols.pbwiki.com where you can participate in discussion and communicate with other volunteers or post your views, questions, suggestions and comments too.
I will like to inform you for recent changes as follows, if it makes a difference for your decision for volunteering with us at Gwalior-
Since 1st Dec.07, we have added the help line and ICTC with video conference facilities available all 24 hours a day using skype programme, whereby experts can provide their services on line too by appointment in their respective discipline. These services are to provide counselling, advise and consultations for treatment etc. related to any medical or health related problems or questions, through video conferencing on line as and when required by prior appointment, however same facilities can be utilised for advice, training or any other uses for our staff and students too. Since 10th March 08, we have started a cardiac and stroke rehabilitation centre with ten beds for chronic care for such patients as such facilities were not available in this region.
Since 2004, following admission of Radha with HIV in this hospital and then beginning of the hospice on site, because of various myths and rumours, the number of patients attending this hospital came down to almost zero, which though improved gradually but never recovered to justify expenses incurred for maintaining these services. Hence after trying for nearly three years, regretfully, the indoor hospitalisation and operation theatre facilities have been closed since 31st Dec. 07. Out patient services, investigations, helpline, ICTC, dental, eye and rehabilitation centre with physiotherapy facilities continue at our main hospital. All rural health care services and 14 rural health clinics along with 30 bedded primary care rural hospital continue to provide services from the Snehalaya Campus now. The hospice has been merged into Snehalaya. There are about 20 children in Snehalaya, who need constant medical and nursing care and supervision like any Childrens ward in a hospital. In addition our work in the Urban slums, schools and Orphanages supported by GCHC continues as before. All these facilities provide sufficient opportunities to work with us in all disciplines or for work experience and internship as desired. We are keeping our options open whether to restart the hospital after overdue renovation work or close it altogether shifting all the services to the rural hospital located in Snehalaya Campus concentrating our efforts for rural development work in villages surrounding Snehalaya rather than urban population of Gwalior. We shall keep updated as it comes.
Though all details are available on our websites and PBWIKI, but do not hesitate to ask for any questions or further details if required. If you let me have your address, I can send the information pack by post too, which may be helpful for your efforts towards fund raising and publicity to support this work. You are most welcome to join us to work with us as per your convenience. Please let us know when and how long for will you like to work with us at Gwalior in our hospital, school and orphanage programme as per your interest and experience. We welcome students and trainees as volunteers for work experience or electives in respective disciplines. We hope for your help and support in fund raising and creating awareness for this cause. Every volunteer is expected to raise at least £500 or more for this work and meet the expenses. If one is not able to raise such funds, they are requested to contribute £50 per week for expenses towards accommodation, food and local transportation for volunteering and £100 towards administrative costs. We hope they will continue with fund raising on their return to help us in this endeavour. If one is able to raise £2000 or more, all expenses will be paid by charity if desired. If you have paid in advance, these could be refunded or reimbursed if desired. Please fill in the volunteer's application and declaration form as available at the end of this page and send it with your contributions or you can pay on line and send us the email receipt with these forms duly filled in, earlier the better. We follow first cum first serve policy and places are limited. We can not confirm for your placement till we have received these forms with your contributions and or deposit.
As you know, this is a charitable hospital (Hospital for children and women, eye centre and general hospital with dental centre, physiotherapy and pain management centre) in central India with rural health services (rural hospital, rural health centres and mobile hospital- a real hospital on wheels), hospice for children with HIV, schools and Orphanages (for home less and disabled children e.g. Blind, deaf, physically handicapped, learning difficulties, mental illness, spasticity etc.) with aims to help and provide for poor, disabled, destitute and underprivileged community especially children, women and the aged of Gwalior and Chambal region in India. To achieve these aims we have been able to add our own care home "Snehalaya- The home with love", which became functional on 23rd Aug. 06 for 40 children. With opening of our Rural Hospital on 23rd Aug. 07, we have initiated integrated rural development programme in villages surrounding Snehalaya. We have initiated a help line and ICTC with video conference facilities from 1st Dec. 07 to provide counselling, consultations, testing and treatment services related to any health related issues, whereby our volunteer experts from India and abroad can provide their services to the needy from their own place. Five more cottages are under construction expected to be ready by May 08, when we will be able to accept 40 more children in Snehalaya. We plan to expand it to make it a resident facility for 200 children as well a school for 500 children when completed hopefully within next few years, more details available on our website www.helpchildrenofindia.org.uk and also other pages of this web site.
We have three categories of volunteers to work with us for as long as they can, from few hours to as many years as they want, as per their convenience-
1. The volunteers who want to go for short durations from few hours to twelve months-
[A]. Volunteers who are resident and tax payers in U.K. will need to contribute (from £500 or more depending upon air fare available at the time) for part of their travelling expenses, inclusive of airfare from London to Delhi and return, local sharing accommodation, vegetarian food and travel related to charity work while working with us, though subsidised by charity. Alternatively you can organise for your own travel arrangements and pay £50 per week towards expenses and one time administration fee of £100, though paying for your air travel also through charity has tax advantages for the charity as well for donors, helping with fund raising for this work by GCHC.
[B]. Those from other countries should arrange for their own travel to reach New Delhi, the nearest Intl. airport and return and contribute for expenses of £50 per week for vegetarian food, sharing accommodation and local transportation related to charity work and one time fee of £100 towards administrative costs. However if you desire, we can organise for your travel arrangements from UK, if it is more feasible or cheaper for you in same way as for volunteers in UK.
[C]. All volunteers working with GCHC, are expected to help us with donations, publicity, create awareness and fund raising as a commitment to help bring up this work. You should start fund raising with a target of £500 minimum and more as much as possible, which in turn creates awareness for GCHC and its work. If you are able to raise £2000 and more, all expenses will be paid or reimbursed by GCHC if desired. We will provide all support with advice and guidelines for fund raising as required which are available on http://gchvols.pbwiki.com too. The sponsorship or fund raising event forms are available at the end of this page as well on our pbwiki, which can be printed from there as required. For fund raising on line, you can initiate by making a web page on http://www.justgiving.com/gwalior/raisemoney/ This is not a difficult task or target to achieve as per past experiences of our volunteers. Only requirement is to make a start with a positive approach.
2. The volunteers who want to go for more than twelve months to three years- We will bear all the expenses for their accommodation, food etc. for the duration of their working with us in India, if we can afford as per needs. We may consider paying a nominal sum as pocket expenses, depending upon requirements and availability of funds with the charity. However the volunteers are expected to pay a deposit of £500 and arrange for their own travel or pay for travel expenses. The deposit will be refunded on completion of volunteering assignment successfully, if agreed in the beginning. In addition they are expected to fulfil their commitment as volunteers for GCHC as given above in 1[C].

3. The Doctors, technicians, teachers, technicians, carers and other experts, who want to live and work with us as our associates for long term or on a permanent basis- We will be willing to discuss, negotiate and accommodate all possibilities on individual basis for such an association as required.