Sponsor a Child
The Need:
At present we have 70 residents in Snehalaya including 38 children. Mostly the children are with various disabilities and or illness. Construction work for five more cottages for 40 more children is progressing well.We have added primary and emergency care hospital services on the Snehalaya campus with the MSM Rural hospital. Plans are in place to build a school for 500 children on site. We also plan to make it a residential facility for 200 disabled children. As you can see,all the help you give will be most welcome ... whether it be by yourself or in partnership with colleagues, friends, employers or family members.

Two types of sponsorships:
1. General sponsorships: 20 pounds per month (or equivalent in any currency) sponsors one of our disabled children for total maintenance including education, health and welfare costs.
2. 'Named' child sponsorships: Optionally, you can sponsor a particular child by name. We've included a gallery of Snehalaya children on this page and please do not hesitate to ask us for any further information if required. gwalior.hospital@care4free.net

For a 'Named' child, in addition to the maintenance payments we request you to help with expenses for specialised care and health needs. The amount will vary according to the child's individual requirements.

Some examples: Deepak is 14 year old child with profound visual impairment. Since he has been in Snehalaya, there is much improvement in his attitude and behaviour.He is attending the school for blind children for education and vocational training. Aman is a six year old, lovely child, all normal but with speech impairment. He is undergoing speech therapy. For Aman or Deepak, we incur expenses of £20 P.M. per child. Radha our angel is HIV positive, though now healthy and normal attending school as any other child. However, with her HIV drugs and other care, we incur expenses of £150 PM. Dhiraj is Hepatitis Bpositive, with speech impairment --- needs medications and care and expenses for him are £25 PM. There are seventeen children with cerebral palsy, physical and mental disabilities and profound learning difficulties and on medications with average expenses of £40 to £50 per child per month. There are seven children with epilepsy and learning difficulties on regular medications. On an average each child needs £25 to £30 PM for actual maintenance expenses.

In addition to the regular progress reports sent to all sponsors, 'Named' Child sponsors receive additional information about progress of the child with photograph and something made by child (usually a handmade greeting card) as a gift from the child on the birthday of the sponsor.

We inform all supporters, volunteers, sponsors and donors with progress of work regularly by post and more frequently by emails unless they opt and do not want to receive same. More details are available in our Souvenir book (published in Aug.07) which is available and can be downloaded for free through our souvenir shop on http://gchvols.pbwiki.com We request you to consider maximum to sponsor these children in Snehalaya and more to help us carry this work forward. More details on www.helpchildrenofindia.org.uk

You may share a sponsorship:
If you prefer, you and your colleagues can adopt/sponsor a 'Named' Child for total maintenance expenses of that child. You may share same with other friends and family --- or can sponsor for part expenses as you and your friends may prefer.

The next step:
If you would like to sponsor the children in Snehalaya by yourself and your colleagues/friends/relatives, please fill in the donation form to sponsor a child mentioning names of the respective children. It is also important to specify that it is a gift aid donation so that it qualifies for tax credits from Inland Revenue for such donations. You are also entitled to reclaim 20% of tax if you are a higher rate tax payer in UK for such donations adopting/sponsoring a child.

The printable donation forms are available here and second part of that form is for donation by standing order and or direct debits. If you prefer you can pay on line using your credit or debit or CAF cards. Still better to avoid hassles with banking procedures, easiest way is if you could ask your bank to set up a standing order from your account to pay to Gwalior Childrens Hospital regularly. The bank details for setting up standing order for regular payments are-

Name of Bank: – Barclays Bank Plc.
Address of Bank: – 10 Hart Street, Henley on Thames, Oxon RG9 2AX
Account Name: – Gwalior Childrens Hospital Charity
Account No: – 10909726
Sort Code: – 20-39-53
Swift code: - BARCGB22
IBAN (required by banks in European Union): - GB83 BARC 2039 5310 9097 26
Volunteers at Snehalaya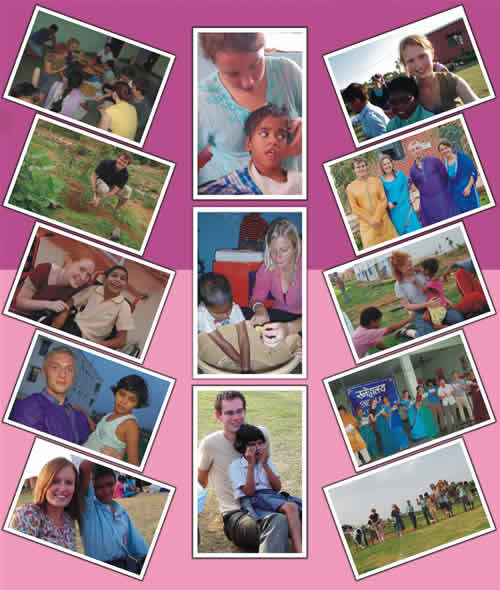 Cultural Activities at Snehalaya