Project Summary - so far and future aims
The Gwalior Childrens Hospital has been set up and registered as a charitable trust to establish desperately needed medical and educational services with aim to help and provide for poor, needy, disabled and destitute children and other poor, vulnerable and underprivileged people in India to start with in Gwalior and Chambal region, one of the most deprived areas in central India. It is more than a childrens hospital, has grown to include various health care facilities and also a school for special needs with orphanages. This work is being carried out in three parts in phases developing gradually as per availability of resources, and additional appeal to establish hospice for children as an urgent needs as follows:-
1. Gwalior Children's Hospital and other facilities-
The aim is to build a 200 bed hospital, with all specialists facilities and services, for the provision of free medical care for the poor, vulnerable and underprivileged esp. children, women and old, at a total cost of £1 million. Gwalior children's hospital, general hospital and eye centre with consultation and treatment facilities in all specialities, with 24 hours emergency care, operating theatre and 40 beds for indoor services exists providing services for last ten years. We have succeeded in construction of another floor now though delayed by two years due to lack of funds, adding 30 more beds as "the hospital for Women and maternity centre", with additional operation theatre. A Dental Centre and Physiotherapy with pain
Now we have a help line with ICTC with video conference facilities open 24 hours a day within the hospital campus since 1st Dec.07. The cardiac and stroke rehabilitation centre became functional too wef 10th March 08.
These facilities are fully functional now providing services to the people there....
But we need to maintain the ongoing services and expand further to add more specialised services to include trauma centre, stroke centre, cardiac centre with physiotherapy and rehabilitation facilities etc. as envisaged and we need your help and support to build upon.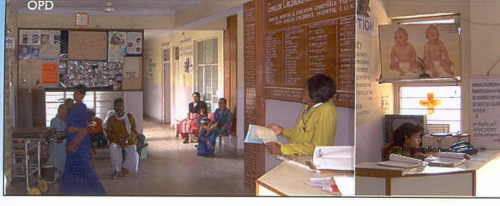 Gwalior Hospital Reception
2. Gwalior Mobile Hospital "A real hospital on Wheels"-
This year in Feb. 2004, we have been able to start the Gwalior Mobile hospital "A real hospital on wheels", with facilities for basic laboratory investigations, X-ray, ECG, Ultrasound, treatment, resuscitation and operations with audiovisual for health education and to create health awareness for prevention and early diagnosis of diseases, prevention of blindness, hygiene, sanitation, vaccination, HIV, family planning etc. and to provide basic essential medical services and operations to save sights at the door steps for poor people in slums, rural and remote areas with its base in Gwalior as essentially needed. So far we have been providing these services through our rural health centres and specialised medical camps including eye camps. Volunteer experts from western world have been visiting and working with us helping to train our staff and students and giving their services to the community there under this programme.
| | |
| --- | --- |
| Mobile Hospital in action | Mobile Hospital in action |
Now with this mobile hospital being functional, we shall be able to expand these services in more areas in the slums and remote villages as well invite more volunteers, but we need money to provide these services in more areas and to have more volunteers. The total cost of this project is £500K. £50 provides for expenses of a volunteer for one week, £500 provides for airfare of a volunteer expert, £250 provides for the total services of the mobile hospital in a remote village for a day including operations for cataracts and other facilities. We need your help to continue and provide these services to the most needy and vulnerable people out there in remote villages to prevent avoidable deaths, prevent blindness, illness and other diseases as essentially needed.
The "mobile hospital- our real hospital on wheels" served its purpose the best in the year 2005 providing services to the victims of Tsunami while working in Tsunami affected areas in Southern India. Thereafter we could use it only for organising medical camps as and when possible or required and could not make full use of it, for lack of funds and staff. Now it remains standing by the side of our rural hospital within Snehalaya campus however its x ray, laboratory, ECG investigation facilities and operation theatre are used for patients attending rural hospital. Our team continues to provide all the other services though rural health clinics, camps, vaccination, health education and prevention etc. adding integrated rural development work in 40 villages surrounding Snehalaya and slum areas in Gwalior.

| | |
| --- | --- |
| Continuing education and training by volunteers from the UK | The volunteer team at work in the Rural Medical Camp |
3. Hospice for children
Recently we came across a 4 yrs. old pretty girl, who has been abandoned. We found her in moribund state almost dying/ gasping brought to Mercy home. She was admitted in hospital and treated successfully. During investigations, she was found to be HIV positive, probable reason for her being abandoned in that condition. Now she is a happy normal child living a second life under our care there. We are under dilemma for not able to offer treatment for HIV as well a risk for other children at Mercy home (as most of the children there are not capable of understanding the problems or protect themselves as they are with profound learning deficiency or mental illness) Since opening of Snehalaya- the home with love, on 23rd Aug.06, our hospice has been merged into Snehalaya, where all children live together as a family enjoying normal childhood undergoing education, care and treatment without any discrimination or isolation as required.
| | |
| --- | --- |
| Child with HIV | Volunteer with Child with HIV |
... but no place available for such children anywhere in the region or even whole state of Madhya Pradesh. Govt. authorities are not bothered at all and do not look into the seriousness of this problem. I am sure if we do not do something urgently, other children there will also get HIV leading to a disaster for them. Therefore we have decided to take this child in our hospital, send her for education to Sunrise school and treat. But there will be more. We shall test all the children who had been in contact with her for HIV as we know and care for them too as required. This is the beginning of the hospice required as an emergency. We need to prepare for a hospice urgently for such children for their care and treatment, if possible as an emergency situation, but we need money for same. Please help for this emergency situation to treat such children and to establish a hospice. It will just cost £100K to provide a hospice to care for 20 children. Just go to our donation page and either donate on line or send your cheques in the name of Gwalior Childrens Hospital-Hospice appeal. Now with this child there, the need is more urgent. Please donate whether large or small amounts to make this hospice as an emergency requirement.
Now the hospice for children with HIV has been merged into our "Snehalaya- the home with love", where these live together with other children as a family enjoying normal childhood and happy life participating in all the activities there undergoing education and treatment as required without any discrimination or isolation.
4. School, Orphanage with facilities for vocational training and rehabilitation for the poor, disabled and destitute Children, all at a cost of just £500K with aim to make these children independent and lead a life with self esteem and dignity.
Our long cherished dream came true on 23rd Aug.06, when "Snehalaya meaning the home with love in Hindi" was opened for its first phase with five cottages, a community centre, school for special needs, multi-sensory room, meditation room under a waterfall with its own farms, gardens and Orchards spread out over an area of 15 acres. A rose garden has been developed around Dr. Meena Sharma Memorial in the premises and a thirty bedded Dr. Meena Sharma Memorial Primary Care Rural Hospital has been started there on 23rd Aug.07 within the campus of Snehalaya. We decided to name these facilities in the memory of Meena as it was made possible to bring up Snehalaya only with support of Dr. Meena Sharma Memorial Foundation initiated with the estate left by Meena as per our wishes and full support of our children Juhi and Vivek.
At present there are 70 residents in Snehalaya including 38 children, mostly with disabilities and or sickness, where all live together as a family. Five more cottages are under construction expected to be ready by May 08, when we will be able to take 40 more disabled and destitute children there. It also has a poultry, bird house, Cow shed (Gaushala) with its gardens, farms, orchards spread out in an area of 20 acres now. Our target for this year to complete by next year are to complete five more cottages and to establish the school with vocational training facilities for 500 children esp. for girls from surrounding villages, who remain un-educated otherwise undergoing oppression all their life. When completed in few years time, Snehalaya will have residential capacity for 200 children with its own hospital and an integrated school with vocational training facilities. All these services and facilities are open to local community and the people from surrounding villages for day care and or respite care as well to provide for the health care and educational needs.
We are supporting more than 1000 children in various schools and existing orphanages (Schools and Orphanages for blind boys and girls, School for deaf and dumb children, Sunrise school, School for tribal children at Kedarpur village, Orphanage for home less girls, Roshani, Mother Teresa's home for sick girls, Mercy home- the Govt. run orphanage for children in Gwalior) for their education and health care needs as much we can. .
Sunrise international school has been initiated as a main stream school with special needs group with aim to provide education for main stream children from local slum area and for children with learning disabilities in Gwalior under the auspices of Gwalior Health and Education Society in July 2001 with the support of Gwalior Childrens Hospital Charity with space provided curtsey Mr. R. K. Sharma, founder of GHES. It provides a place for children from local slum areas to go, who otherwise may not go to school. There are 84 children there at present. Another branch has been opened in Laxmi Ganj area of Gwalior in year 2005, which caters for 112 children from nearby slums there. School also runs an outreach programme in nearby villages and slums esp. for children with disabilities.
| | |
| --- | --- |
| The School for Tribal Children | Orphanage & School for Blind Children |
We have started scholarships for meritorious students and a poor students fund to help poor students to complete their education, research and training.
On completion of the above we would look to expanding the hospital with college and educational facility, to make it a 200 bedded multi-speciality teaching hospital including a cardiac and stroke centre with physiotherapy and rehabilitation facilities. Once this has been completed the Trust would like to continue this work in other areas in India, where these may be most needed depending upon resources, however we will be prepared to help, support and undertake any work anywhere in India as per choice of the donor to help and provide for poor, disabled and destitute children.