Achievements in 2003
Further to our previous newsletters, we are pleased to announce that on 26th Oct. 2003, We have completed five years and enter into 6th year of being functional and providing services in this region. During this period of these hospitals being functional in spite of many teething troubles and lack of funds, though delayed by two years, now we have been able to complete additional wing making it a facility as "The Gwalior Hospital for Children and Women" as well start the The Gwalior mobile hospital "A real hospital on wheels".
| | |
| --- | --- |
| Gwalior Hospital for Children and Women in Nov. 2003 | A patient in hospital |
The charity has supported the work to the extent that -
The Hospitals : 214824 Patients have been benefited with consultations, investigations, operations and treatment facilities inclusive of 57546 in this year, through these hospitals and its associated units. A free OPD is run from 9a.m. to 7p.m. every day manned by specialists in all disciplines.
Other facilities are provided for nominal charges, for various laboratory and radiological investigations, operations, hospitalisation, intensive care treatment, dialysis etc. We will like not to refuse any poor person for free treatment, but sometimes hard decisions are taken for lack of funds. we try to provide maximum within our limited means to all poor, destitute and disabled people in the region.
The Hospital provides emergency and ambulance services all 24 Hrs. of the day throughout the year. We are aiming to develop accidents & emergency (Trauma) Centre with multi-speciality team approach and a stroke centre for treatment and rehabilitation of stroke patients. Special clinics are run for vaccination, epilepsy, diabetes, hypertension, tuberculosis, leprosy, female health check-up for early detection of cancer etc. etc.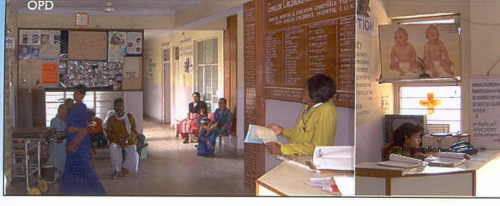 Patients in the hospital and new reception
With additional facility now with hospital for women, we shall be able to provide the maternity services too caring for mothers and babies. We are introducing facilities for "pain less labour" in Gwalior first time. We have been able to upgrade the Intensive Care Unit facilities and added two new operating theatres in the hospital to provide these services, one dedicated for eye operations, other as delivery suite for Gynecs and Obstetric procedures and third for other surgical specialities.
Gwalior Mobile Hospital "A real hospital on wheels" -
Though planned for long, we have been able to make this facility available now only for services in remote villages of Gwalior and Chambal region with the help of capital funds provided by Accenture employees charity in U.K.. The Gwalior Mobile hospital "A real hospital on wheels", with facilities for basic laboratory investigations, X-ray, ECG, Ultrasound, treatment, resuscitation and operations with audiovisual means for health education and to create health awareness for prevention and early diagnosis of diseases, prevention of blindness, hygiene, sanitation, vaccination, HIV, family planning etc. and to provide basic essential medical services and operations to save sights at the door steps for poor people in slums, rural and remote areas with its base in Gwalior as essentially needed, is fully functional now.
Since June 2003, We have expanded our work in rural areas and have been working in following villages with a population of about 750000, selected for non availability of any health care system in these areas, through our rural health centres in of Kalyani, Nagori, Badori, Biloa, Jorasi, Mahalgaon, Nim Chandoha, Turari, Banwar, Mauchha, Nonera, Khuman ka Pura, Susera, Jalalpur, Rudra Pura, Susera, Naya Gaon and Khaneta. Now with these additional facilties we shall expand further these services in remote areas like Rairu, Pratap Singh ka Pura, Mahtoli, Banmore, Chhonda, Shanichara, Sikrori, tekanpur and surrounding villages. We aim to work there to provide these essentially needed basic medical facilities to improve the health and living conditions, to prevent spread of diseases and to treat the ill people including cataract operations at the door steps for these poor people, which they are not able to receive otherwise for illiteracy, poverty, ignorance, want of transport means etc.
| | |
| --- | --- |
| Gwalior mobile hospital - a real hospital on wheels | Operation theatre |
| | |
| Patients attending mobile hospital | Patient in mobile hospital examination unit |
We are very much thankful to Accenture Employees Charity to help us in bringing our this dream true, but we need funds to maintain and provide for these services in these remote villages. We have been promised by GRMC Alumni in USA for their support for this work. We hope that probably Govt. authorities may grant us funds to carry on with these services.
Volunteers
312 volunteer experts from U.K., U.S.A., Australia, Germany, France, Belgium and U.A.E. have visited and participated in the training of local staff members and students at the Hospital, its various units, Adhar Public School, Sunrise Intl. school, Mercy Home and with other like minded sister organisations as well provided their services to the community inclusive of 69 in this year. These also included 15 volunteer students from U.K., U.S.A. and Australia, who gained valuable work experience much different from what they are used to in their places.
Special names to mention are Dr. H. P. S. Chauhan, Dr. Vijaya Kumar, Dr.V.N.Sehgal, Dr.Sobie Pandey, Dr. Ranjana Sharma, Mr. Charles de Francis (Ex high commissioner of U.K.), Bonny Squair, Victoria Sleet, Dr. Gillian Davies(Anaesthetist and BESO volunteer), Celine Loupia, Hope Hammrick and many more. This volunteer programme continues throughout the year with ever increasing no. of experts to support this programme. Many students from U.K., U.S.A., Canada and Australia are joining our volunteer students programme to gain work experience.
Medical Camps
436 multispeciality medical camps and eye camps have been held with special emphasis on health education and prevention, early diagnosis and treatment of various medical problems in these areas like Diabetes, Tuberculosis, Leprosy, Osteoporosis, Night Blindness etc. etc.
Eye Centre
We have worked actively for prevention of blindness and creating awareness for preventable eye disases like xerophthalmia, trachoma, night blindness etc. This Hospital has been recognised by the society for the prevention of blindness in INDIA for its work. So far 9865 persons with blindness and eye problems have been provided services through this centre including 457 operations giving sight to these people. 38 eye camps have been organised within hospital campus as well in slums and rural areas aiming for prevention of blindness and saving sight. Now with expansion of hospital, we have a dedicated operation theatre for eye surgery only.
In addition with mobile hospital's operation theatre we will be able to do these operations in villages itself avoiding transportation, disruption in their life schedule overcoming the reasons for delay in such operations giving them sights, by our dedicated Ophthalmic team under guidance of Prof. B. Shukla, the president of Ophthalmic Society of India and recently awarded with international fellowship. We have requested Helpage India and Sight Savers of India for funds to help us for continuing this work. We also plan to develop an eye Bank at this centre to add on much needed facilities in this area.
Vaccination, malnutrition, prevention etc.
We continue to work actively in prevention of Polio, Measles, Hepatitis B, Meningitis etc. with vaccinations programme. We have been working to create health awareness to improve upon hygiene, sanitation as well prevention of malnutrition, other preventable infections and early diagnosis of common ailments throughout. Speciality camps are organised regularly in slums and rural areas and special clinics are run at the hospital for the purpose. We have organised special counselling, physiotherapy clinics and camps too to help disabled children.
Slums and Rural Development Work
Prof. Saraswat, philanthropist and social worker has been actively supporting and working with us voluntarily, helping us in organising this work in remote village areas through Gwalior Mobile Hospital. All services including supply of medicines in slums and villages are provided free of charges through our Rural Health centres and frequently organised specialists medical camps with support of local sponsors and like minded sister organisations, like MPCT, Sambhav, Rotary club etc. Unfortunately we did not get the land and support as promised to start Rural Health Centre at village Milawali for various reasons. Hence with regret we had to abandon plan to open that centre in the circumstances.
We initiated regular health education programme in slums & rural areas with the help of health educators, social workers targeting for hygiene, sanitation, prevention and early diagnosis with repeated regular visits. Now with our mobile hospital "the real hospital on wheels," we are able to expand upon these services with provision of facilities of a hospital including investigations, treatment and operations in slums and remote villages with audiovisual means for health education to create awareness, for prevention and early diagnosis to improve health and living conditions and avoid deaths as much as possible.
Schools & Orphanages
We support 981 children for their education and health care needs in various orphanages and schools in slum areas, The schools and Orphanages for blind, deaf & dumb children, Roshani, the school for spastic children, Mercy Home (The orphanage for Mentally Disabled Children), The Orphanage for Blind Girls, The Orphanage for homeless girls, Seva Bharati's School for poor Tribal Children at Kedarpur etc. We have extended our support and services to the children in Mother Teresa's home for sick girls and abandoned new born or infants. Some of these children have been adopted and sponsored by us for their total maintenance expenses.
After having worked for two years in Mercy Home (the Govt. run Orphanage for children with profound learning disabilities and mental illness, but in fact a dumping place for any homeless or abandoned person), we were not able to make desired changes due to obstructive unsympathetic attitude, work culture and hurdles created by local Govt. staff. Hence in May 2003, we have proposed to take the total responsibility of the management and care of the children there without any financial help, provided they withdraw their employees. Since June we are actively supporting and providing for the children in Mercy home with volunteers input, extra carers, play and dining facilities and supplementing food, clothes, toys and bed linen etc. The life for these children has since improved, but that is not enough.
To avoid exploitation and abuse, we had to fight tooth and nail to shift five vulnerable girls from there to Mother Teresa's home, where they are being looked after with love and care now duly sponsored by us.
| | |
| --- | --- |
| Children in Mercy Home | Mother Teresa's home with our volunteers |
If agreed we shall develop this as our orphanage naming it as "SNEHALAYA", the home with love, to provide love and happiness to these children. Alternatively we shall build our separate Orphanage as "SNEHALAYA" with vocational training and rehabilitation centre for disabled and destitute children.
The Hospice for Children with HIV
Recently we came across a 4 yrs. old pretty girl, who has been abandoned. We found her in moribund state almost dying/ gasping brought to Mercy home. She was admitted in hospital, treated successfully and now living a second life. During investigations, she was found to be HIV positive, probable reason for her being abandoned in that condition. Now she is a happy normal child under our care there, but we are under dilemma for not able to offer treatment for HIV as well a risk for other children at Mercy home (as most of the children there are not capable of understanding the problems or protect themselves as they are with profound learning deficiency or mental illness), but no place available for such children anywhere in the region or even whole state of Madhya Pradesh. Govt. authorities are not bothered at all and do not look into the seriousness of this problem. With this child there in Mercy Home, other children there are also very much likely to get HIV leading to a disaster for them. Hence as a precaution, we have proposed to shift this child to our hospital for care and treatment, get her normal education at our Sunrise School. We shall test all the children who have been in contact and take any positive children for their care and treatment too as a beginning of the Hospice for such children as an emergency situation now. We have thought for such calamities asking for grants from various organisations including Mellinda and Bill Gates foundation to establish a counselling centre and hospice for HIV/AIDS patients, but we could not initiate for lack of funds with us and no grants were available. But now the need is urgent and we need money and sponsors to make a hospice to provide treatment and care with love to such children.
| | |
| --- | --- |
| Child with HIV | Child with HIV and our volunteer |
Adhar Public School and Sunrise Intl. School.
The School for Special needs with main stream school is progressing and providing education to 198 children now. We need special needs teachers to facilitate and help us in this work. One has to visit and see personally to realise the real change in these schools and orphanages since having been adopted and being provided support for their living conditions, education and health care due to dedication and continued efforts and hard work of our volunteers from U.K., U.S.A. and France, but we need this support to maintain and expand these facilities.
Scholarships and poor students fund for students of GRMC, Gwalior -
With funds provided by Dr.V.N.Sehgal and Dr.B.K.Sharma, we have initiated two scholarships to meritorious students at GRMC, Gwalior. The recipients of these scholarships are being selected as per results of first professional exams held in Sept.2003. We have also established a "poor students' fund" of Rs.25000 P.A. to help poor students to complete their education, research and training. Gradually we should increase this funding made available with the help of more support from GRMC Alumni members in U.K. and U.S.A.
Overseas education and training-
We have initiated this programme to help students, trainees and teachers from India to advise and guide them for training and education opportunities by gaining attachments, training and experience or to have better career opportunities abroad. Under this programme we have helped 23 students and doctors so far to get attachments, to help them attend courses for PLAB test or get exemptions for training in U.K. We have also provided similar help to non-medicos to attain higher qualifications and training in U.K. and Australia like MBA, Accountancy, Horticulture etc. We continue to help these students and trainees for the purpose. We request our senior colleagues well settled in U.K., U.S.A., Australia etc. to help us with advise, guidance and help promote this programme with their support and time to facilitate same.
We continue with continued medical education programme at Gwalior with the help of expert volunteers from U.K., U.S.A. and India. Many more volunteers from overseas have shown interest in our programme and we are planning to initiate courses and training to award various certificates and diplomas in various medical and paramedical disciplines with affiliation of various organisations and institutes to benefit students in India and prepare them for higher training overseas if required.
Volunteers' support and Fundraising -
Our colleagues, volunteers and supporters continue to help us in fund raising by various means. Few events and activities to remember-
Second Volunteers Day was celebrated by holding a dinner and dance with live music played by Savoir faire at St. Andrews Church Hall, Norwich on the 21st June 2003. It turned out to be a very pleasant, enjoyable evening to remember raising £2873 for the charity. Many thanks and congratulations to Amanda Nelson and team of our volunteers and supporters esp. those at Norwich for organising such a wonderful event.
On the occasion six of the volunteers, Mr. Michael Binnie, Dr. Richard Levin, Victoria Sleet, Mr. J. S. Bilkhu, Mr. Steve Jenkins and Miss Sarah Blowfield (Posthumous) were awarded certificates of honour recognising their outstanding work, support and volunteering services to help carry this work forward to help and provide for poor, disabled and destitute children of Gwalior and Chambal region in India. In addition Mr.Michael Binnie(a retired teacher from Surrey) was named as fund-raiser of the year.
The party continued till late in the night and concluded with the raffle draw, whereby Mr. Mark Smith of Norwich, won the first prize of £250. Eva Frean of London won the second prize of £100. Two third prizes and four forth prizes were awarded. Our heartiest Congratulations to all the winners. Many thanks to Eva Frean, Mr. Christopher Saunders and Mr. Gurmit Tamber who have donated their winnings to the charity. Our next volunteers day will be celebrated on 26th June at Ironbridge in Shropshire being organised by Mrs. Lynda McShane.
| | |
| --- | --- |
| Volunteers day celebration at Norwich on 21st June 2003 | Volunteers day |
Shridhar JayaKumar and Deepa Ramchandani from UCL raised £428 through parachute jump. Darshana Patel, Priya Desai and 12 colleagues went around circle line in London with buckets in hand on 15th Aug. 03 (India's Independence day) to raise funds for this cause.
A gift to Mariane -Mariane Ayling, a teacher in Shropshire while getting married on 24th Oct., sent invitations and asked all the guests, whatever they want to give to her as wedding gift, in stead give all that as donations to Gwalior Childrens Hospital. To denote that she was serious about it, Marion added that if anyone brings any gift, those gifts will be sold by auction and all the proceeds will go to charity to provide for this cause. Our heartfelt gratitude for Marion's such feelings and support for us with our congratulations and best wishes for a happy married life.
An evening of music, drinks and food in exotic settings was organised successfully at the Nomads tent, 21 St. Leonard's lane, Edinburgh. EH8 9SH on 21st Nov. in aid to our Orphanage programme by Stephanie Wolf-Murray of Connect Humanitarian Agency, Anne Goring, Bonny Squair and Charles Drace-Francis with the help of many volunteers and supporters. Mr. Ruffus, owner of The Nomads tent generously donated of all sales to our orphanage work.
Mr. Michael Binnie, a retired teacher from Surrey went for 800 miles long walk "PARIKRAMA" along Narmada river in India from Amarkantak to Bharuch (its origin to its end into Arabian sea) from 26Sept. and completed it on 21st Dec. raising funds for the school for special needs and the Orphanage. This is to remember that Michael has completed first leg of this Parikrama in year 2000 to raise funds for an Indian Cancer Charity.
Dr. B. K. Sharma, founder of these charities has been appointed as honorary adviser to the research board of American Biographical Institute in U.S.A.. He has been highly commended with Beacon Prize award for year 2003 recognising the work done by these charities in India to help and provide for poor, disabled and destitute there. He was nominated for this award by one of our well wishers, not known to us yet. Dr. Sharma thanks with his gratitude to all his colleagues, the volunteers and supporters, who are the real and rightful owners of these awards bringing up this work to this stage.
Lewis Brett Smiler, our dedicated volunteer from USA has prepared a beautiful website to show his feelings for this work.
. Radha is organising fundraising in Australia. We are hoping for affiliation and cooperation with CAF Australia and Co-Aid Australia to achieve these goals as initiated by Radha there. Robin Prentice from Australia is designing a new web site for us to show the real picture, which will be functional very soon www.helpchildrenofindia.org.uk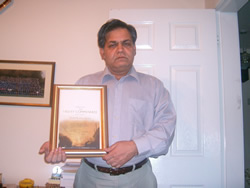 Dr. Sharma, founder of these charities honoured with Beacon prize 2003 award
The Edinburgh Academy, one of the most prestigious schools in U.K., has selected Gwalior Childrens hospital as the charity of the year out of many applicants. The bid was won with presentation by Charles Drace-Francis, Ex. high commissioner of U.K. (who has worked with us at Gwalior for three months at the beginning of this year) and Bonny Squair. This will boost the fundraising as much needed for the ongoing Orphanage appeal with the help and support of all the teachers, pupils and parents of the Edinburgh Academy. We are very much obliged to Jackie Marsh, the charity committee in charge, for organising various fundraising activities throughout this year to raise funds for the Orphanage work. Visit for updates and details www.edinburghacademy.org.uk/activities/charities.html
We need to continue with such fund raising activities more frequently to achieve our targets with involvement of more volunteers and supporters. We very much need funds to maintain and continue for ongoing work (£10000 p.m.), as well to expand these services and to complete the Orphanage with centre for vocational training and rehabilitation to help make these poor, disabled and destitute children independent enabling them to lead a life with self esteem and dignity (£500 k).
We are extremely grateful to all our supporters, our volunteers and all the donors towards helping us to achieve, what has already been achieved, but that is not enough. We need to expand to complete this work. We hope for your continued support and commitment to continue with this work. We look for your extended help and support to complete the unfinished work and expand these facilities.
Please "donate" now.