Achievements in 2007
We would like to thank you all for continuing your support, helping us to bring the work to this stage. We are happy to say that we have moved further achieving our targets as per plans for this year and aim to move forward as per plans taking these works further with your help and blessings.
The work continued in the hospital and rural areas through our facilities. We are proud to say that by now more than 500000 people have been benefited with the services and work by this charity there through Gwalior Hospital for Children and Women, the General hospital with eye centre, dental centre, Physiotherapy services with cardiac and stroke rehabilitation centre, 14 rural health centers, mobile hospital and the hospice (has been merged into Snehalaya since). Now the help line with ICTC and video conference facilities are available too all 24 hours a day. More than 1000 cataract operations have been performed giving sight to these blind people through our eye centre. As per survey in tribal villages, we found 450 children with night blindness and eye problems due to Vitamin A deficiency, who were provided complete course to help avoid problems in future. By now nearly 800 volunteers from abroad have worked with us at Gwalior providing their expertise and services to the community there through our facilities.
Sunrise school continues as an integrated school providing education to the children from nearby slum areas. There are 84 children there at present. Another branch has been opened in Laxmi Ganj area of Gwalior, which caters for 112 children from nearby slums there. School also runs an outreach programme in nearby villages and slums esp. for children with disabilities. In addition to the children in Sunrise School and Our Snehalaya, we continue to provide support to more than 1000 children in schools and existing Orphanages of Gwalior and Chambal region esp. those in Kedarpur School, Mercy Home, Mother Teresa Home, Orphanage for homeless girls, School and Orphanages for blind girls and boys, deaf and dumb children, Roshani, Vivekanand Ashram and other schools in slum areas.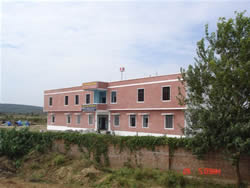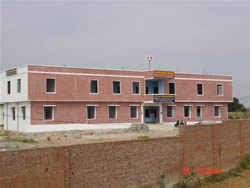 On 23rd Aug.07, the anniversary for Snehalaya was celebrated with inauguration of 30 bedded Dr. Meena Sharma Memorial Primary and Emergency care Rural Hospital on site with release of Souvenir book for year 2007. The hospital has been named after Dr. Meena Sharma as the work could be completed with funds left by her legacy only through The MSM Foundation, a registered charity in UK. Sports and cultural events were held in Snehalaya for three days to commemorate the occasion and celebrate completion of one year of Snehalaya.
Click here for the Anniversary Photo Gallery »
The Rural hospital in Snehalaya campus has been started as planned providing health care services to the residents in Snehalaya and to the people from surrounding villages. Services through 14 rural health centers are being provided continuously too with its base now in Snehalaya. With opening of rural hospital in Snehalaya, we have started integrated rural development work inclusive of hygiene, sanitation, vaccination, safe drinking water, education, health, generation of income with employment opportunities etc. in villages surrounding Snehalaya and have adopted villages Lakhnoti and Lodra to start with by ourselves.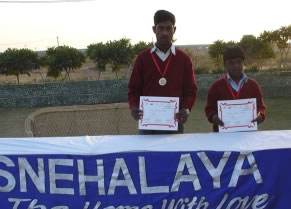 On 1st Dec., the World Aids day, we initiated help line, ICTC with video conference facilities and Gwalior network of positive people.. Now people of Gwalior can avail services by experts from any where in the World sitting in their own town 24 hours a day through this service provided by GCHC, perhaps first in India. In fact any one can avail these services from any where in India or abroad sitting from their own place, if they have computer with web cam and internet service. We have more than 450 experts from India and abroad belonging to various disciplines to provide their time and expertise for any medical or health related issues in general and for HIV/AIDS in particular. But since 31st Dec. 07 the indoor hospitalisation and operation theatre facilities have been closed in the hospital. Out patient services and investigations as well help line with ICTC continue as before. All rural health care services are continuing from the rural hospital in Snehalaya Campus now. The hospice has already been merged into Snehalaya since Aug.06. We are debating our options whether to restart the main hospital after overdue renovation work or close it altogether shifting all the services to the rural hospital located in Snehalaya Campus concentrating our efforts for rural development work in villages surrounding Snehalaya rather than for urban population of Gwalior. We shall keep you updated.
Our "Snehalaya, the home with love" Continues to provide a life with happiness and dignity to the disabled and destitute children. Beginning of the year saw our two children winning the Gold Medals in national special Olympic and abilympic games held in South India in Jan.07.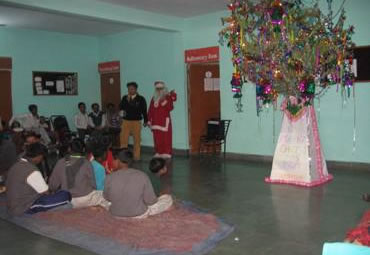 Monthly sports day is held regularly in Snehalaya. We hold cultural programme too regularly for the children there. In addition we celebrate all festivals and occasions to let children enjoy happily as much they can as well let them be aware of all religions and occasions. With these aims we celebrate all religions and respective festivals throughout the year without any discrimination or reservations. We celebrated Makar Sankranti, Holi, Diwali, Eid and all the other festivals. Christmas and New Year were celebrated in Snehalaya campus with Santa Claus from FM 97.3 radio team and other festivities including sports day and cultural events were held almost for two weeks. All children were invited for lunch and fun activities in Usha Kiran Palace hotel by their staff on 1st Jan. the New Year's Day. We are obliged to GM and other staff members there for their support and helping us in giving these children a life with happiness and dignity. (Here I will like to add that UKPH is the only five star hotel in Gwalior region, which I can not afford personally for myself or rather do not like to waste my own money for such luxuries, but) it turned out to be very good and a successful outing for children there. On 18th Jan.08 we hosted first cultural event with sitar recital by Mr. Bapat, poetry by national fame poet Shri Pradeep Choubey and entertainment by Mr. Mustaq Ali of 97.3FM radio in presence of Mr. Hari Mohan Sharma, the editor of Dainik Bhaskar, the most popular news paper in India, as chief guest.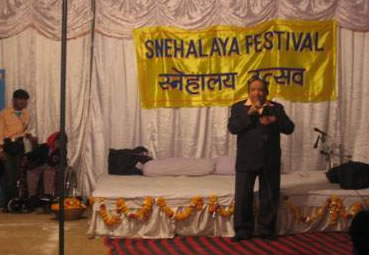 The evening was successful with laughter all-round. Our children enjoyed too and no body could say that these children are same as deprived as they were till only one and half year before. We are obliged for their support and giving their precious time for the sake of Snehalaya and its children.
At present we have 70 residents including 38 children in Snehalaya with aims to make these children independent. These facilities are available for the children from local community too for day and or respite care services. It has been designed as a care home for disabled and destitute children, home less women and the aged where they live together as a family. The construction of five more cottages is progressing well expected to be ready by May 08, when we should be able to accommodate 40 more children there.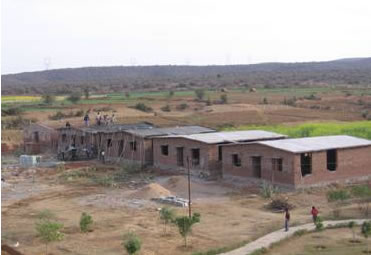 As per plans when completed Snehalaya will have facilities to accommodate 200 children with a school, hospital and vocational training centre on site. Our next target is to start a school in campus for 500 children inclusive those residents in Snehalaya as well from surrounding villages. Our focus is for girls, who remain uneducated otherwise. With a grant of £25K received from Waterloo foundation for the school as planned, we shall be able to undertake this work soon though we need £125k to complete this project. To complete this work our "Sponsor a brick appeal" continues, whereby £5 or $10 or equivalent in any currency pays for one brick with your name on it. £1500 or $3000 will pay for a room and £5000 or $10,000 will provide for a house to accommodate 10 children with their carer parents or consider sponsoring any part of this work as per your preferences. We will be happy to place a plaque with the name of your choice as its sponsor. We also look for sponsors to contribute towards sponsoring individual children in Snehalaya. As per "sponsor a child appeal", just £20 or equivalent in any currency per month will pay for total maintenance of a disabled child there including home, food, clothes, education and health care with an opportunity to become independent or same can be done for £2000 once in life time. Please help us to provide a new life with happiness and dignity to these children in India.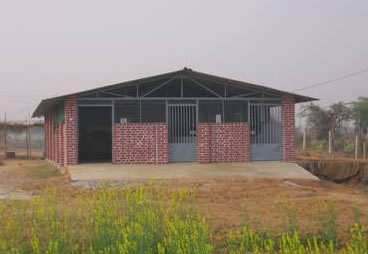 It is pleasing to see our rose garden in Snehalaya with blooming roses in different colours around Meena's memorial now. This year we have further planted 4000 plants, trees and shrubs in the campus including teak wood trees on the borders and various fruit plants. Our cow shed and shed for poultry farm is ready too with cows, ducks, geese, hens, cocks and chickens. Our cow shed and shed for poultry farm is ready too.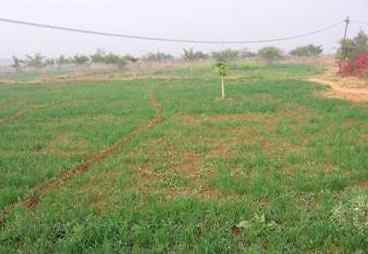 Soon we will have a bird house too. We are able to cultivate most of the land for farming this year growing mustard, wheat, potatoes, other seasonal vegetables and papaya on site, thanks to all the hard work by our life time volunteer colleague and supporter Mr. Narayanan. Our Souvenir shop and vocational training centre in Snehalaya, brought up with the efforts of our volunteer couple, Sanjay and Mansi Joshi, continues to thrive at Snehalaya, where you can buy or place an order for any handicraft items or services from India to help us in this Endeavour. Hand crafted greeting cards, candles, file covers, bags, cushions and cushion covers and many more items are available made by children with disabilities and also souvenir items of charity with its logo including T-shirts, lapel badges, key rings, pens, Souvenir book etc. Please visit http://gchvols.pbwiki.com where you can see more updates, news, information for various events, participate in discussion or write your views and suggestions as well order for any items from our Souvenir shop.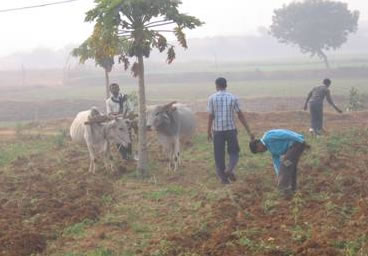 We are happy to announce that now Gwalior Childrens Hospital Charity is registered in France as an association with initiatives of Bruel Alexandra and Tessoulin Benoit, who volunteered too at Gwalior as medical students this year. They have designed a web site in French language too www.enfantsdegwalior.eur.st Our website http://www.helpchildrenofindia.org.uk is also up and running with a new face, thanks to Mr Robin Prentice for putting in countless hours of hard work to make it go. For more details, news, events and updates please visit our PBWIKI http://gchvols.pbwiki.com
Our volunteers continue to give their time, expertise as well raise funds helping us carrying this work forward. We depend upon them for funding for these works as well for publicity mostly by word of mouth, as we can't afford costly advertisements. To mention of some are- Senez Ibrahim, an A level student aspiring to be a doctor, has raised £9921 and has earned to become fund raiser of the year. She volunteered in Gwalior too with her mother and grand father, our first three generation volunteers in Snehalaya.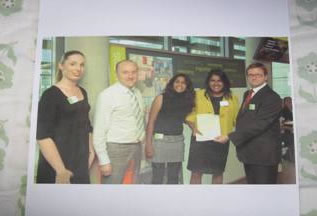 Team from the Royal Air force Squadron 43 F was in Gwalior in Jan.07 helping us in this endeavour as well raised funds from their colleagues by holding a raffle draw. Indian Society of Imperial College in London organised "East meets West" on 18th Feb07 choosing Gwalior Childrens Hospital as its sponsored charity this year again. Lynda and George organised volunteers day at the bank of river Savern in Iron Bridge on 23rd June 07. Eleven Volunteers were honoured for their outstanding support in respective categories on the day along with an evening full of entertainment attended by volunteers and supporters from all over UK as well Indra Gruener from Germany and Mr. Gordon from the Netherlands. Daniel P Green went for a 13 mile long half marathon swim in Aspire swimming pool on 7th Sept.07, raising funds for GCHC. Now he is working in Snehalaya and hospitals providing his expertise as a physiotherapist for four months. Alan Whybrew participated in awareness and fund raising exhibition in Douglas, Isle of Man organised by One World there on 6th Oct.07.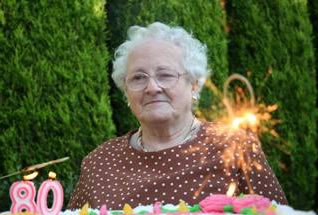 Caroline Regan's grand mother raised £370 for GCHC in lieu of gifts for her 80th birth day in Dec.07.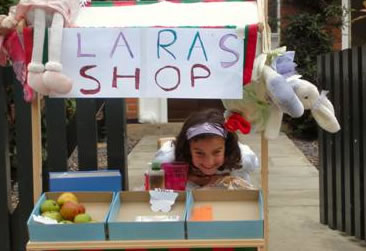 6 years old Lara from Devonshire house school in Hampstead, London arranged for jumble sale of various things to raise funds for Gwalior Childrens hospital Charity to provide for poor and underprivileged children in India. She successfully raised £150.00. Lara has also recommended to her school committee to adopt GCHC for school's preferred charity for next year.
We are happy to announce that Lara stands nominated for being the youngest volunteer and fund raiser and our dear Granny as senior most volunteer of the year for year 2007. They will be honoured on volunteers' day in year 2008 along with few more in respective categories. There are many more and it is not possible to name every one. We are obliged of all our volunteers, without whose help we could not achieve, what has been achieved and we are sure for their continued support for many years to come to help us take these works forward.
We are very much obliged for all your support, but the needs are much more now: we are moving on and asking for your support to provide for the children who live at Snehalaya, for expansion and plans to complete the Snehalaya and the school there. As per "sponsor a child programme", with your just two thousand pounds sterling (or US$4000 or Rs.1.6 laks) once, a disabled child is provided with home, education, food and health care giving him or her a new life and an opportunity to live with dignity. Twenty pounds or US $40 or Rs.1600 a month or its equivalent in any currency, provides the same support. Just £10 or US$20 or Rs.800 will give sight to a blind person in India. We need £10,000 PM for maintenance of ongoing facilities and more for planned expansion. 100% of funds received are used for the work of the charity only as per wishes of the donor or the sponsor. We believe and you will surely agree that £20 or $40 PM to spare in UK or USA or equivalent in any currency, is not a large amount for majority of us and most of us can spare that without much hardship. Yet it can give a child on streets in India, a new life with happiness and dignity. You can donate online or choose other modes for donations as you prefer, details on www.gwalior.hospital.care4free.net/donation.html Every donor is issued a receipt for their tax deductible donations for Inland Revenue purposes if allowed as per rules of the country you live in. Please do it today, before it slips your mind. You can be sure that whatever amount you send large or small be fully used to supporting a child or other needs as you wish. Unlike numerous other organizations, administration costs of Gwalior Childrens Hospital Charity are met by the founder and the generosity of individual members of the board. This means that one hundred percent of your donation goes towards supporting the health, education, and welfare of the homeless and disabled of India.