Current news and updates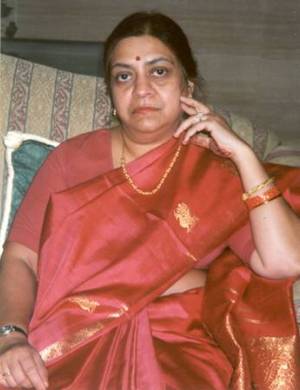 OBITUARY FOR Dr. Meena Sharma
as written by Dr.B.K.Sharma, her husband and founder of these charities-
We are very sorry to have lost suddenly Dr. Meena Sharma, Co-founder and major supporter for these charities on 23rd Aug. 2004.

OBITUARY- Dr. Meena Sharma
(From 24-03-1952 to 23-08-2004)
The sudden and tragic death of Dr. Meena sharma aged 52 shocked all who knew her. She passed away on 23rd August 2004 suddenly while visiting Gwalior for her holidays and volunteering for these charity hospitals in Gwalior, India.
Dr. Meena Sharma was born in Jabalpur on 24th March 1952 to renowned educationist Professor R. P. Pandey and Lily Pandey, RIP. After completing her schooling and medical studies in Jabalpur, she married Dr. B.K. Sharma in 1975 and shifted to Gwalior. She gained M.D. in Anaesthesiology in 1977 while in Gwalior. She built on her education and experience in Gwalior, Bombay and England. She also received further qualifications of D.A. and M.R.C.A. whilst in England. She was working in Royal Wolverhampton Hospitals as an anaesthetist till now.
In addition to her academic and professional accolades, Dr. Meena Sharma was co-founder of Gwalior Childrens Hospital Charities along with her husband, who founded these organisations in 1993 with the aim of improving conditions for the poor, disabled and destitute especially children, women and old of Gwalior and Chambal region in India, details on www.gwalior.hospital.care4free.net . She was in India fulfilling these aims at the time of her passing and had continued to support this work throughout by providing time, efforts and money at the expense of personal and family comforts undergoing all the hardships without any regrets.
We shall always remember her with continuity of this work taking it to new heights. There is always a silver lining in clouds. With this sudden unexpected demise of Meena, our children Juhi and Vivek have come forward to work and support this work for its completion and carry it forward giving birth to Dr. Meena Sharma Memorial foundation from the proceeds of Meena's estate, to help and provide for the poor, disabled, destitute, underprivileged, harassed and oppressed children and women of India and U.K. as per her wishes.
The MSM foundation has been registered as a charity in UK in March 2005 with aims to help the children and women of UK and India especially the disabled, underprivileged and disadvantaged ones. For application procedure and other details, please visit www.geocities.com/msm_foundation or write to Mr. Vivek sharma, Executive- The MSM Foundation, 14, Magdalene Road, Walsall, West Midlands WS1 3TA (U.K.) or email to gwalior@onetel.com

"A thirty bedded Dr. Meena Sharma Memorial Primary Care Rural Hospital is functional since on site in within the campus of Snehalaya. We decided to name these facilities in the memory of Meena as it was made possible to bring up Snehalaya only with support of Dr. Meena Sharma Memorial Foundation initiated with the estate left by Meena as per our wishes and full support of our children Juhi and Vivek. (please place the photograph of the rural hospital also here) This hospital will cater for the health care needs for all the residents in Snehalaya, the children there as well for the people from surrounding villages."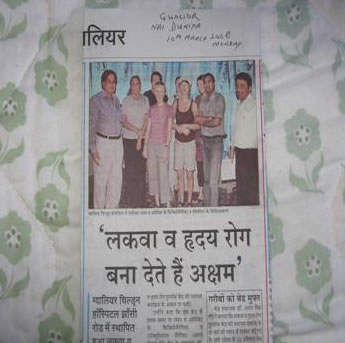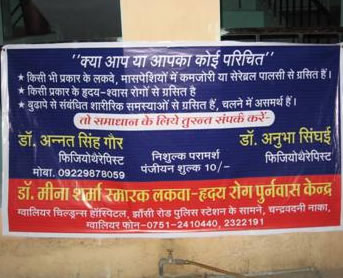 It is difficult to find comfort in such situation, however with the commendable work that she did for her patients, for Gwalior Childrens' Hospital Charities, for her family and friends; Dr Meena Sharma's spirit will live on, especially in the lives of the people she touched and in those who learnt from her. There will remain sadness at her passing, happiness in many memories, and a share of the inspiration that she so generously gave to all with whom she lived and worked.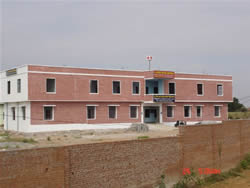 B. Dr. Meena Sharma Memorial Cardiac and Stroke Rehabilitation Centre opens in Gwalior Childrens Hospital Campus-
We are happy to inform that since 10th March 08, we have added much needed Cardiac and Stroke rehabilitation facilities at our Physiotherapy Centre within Gwalior Childrens Hospital Campus. This has been possible with joining of Dr. Anant Singh (Neuro-physiotherapist), Dr. Anubha Singhvi (Cardiac Physiotherapist) and Dr. Akanksha Seth (Paediatric Physiotherapist) with aims to rehabilitate and bring such patients to normalcy at the earliest possible with minimal residual effects as much possible. A full team of specialists includng occupational therapists, speech therapists, counsellors and Psychologists etc. will help in bringing these results to the best advantages for such victims of heart attack and strokes with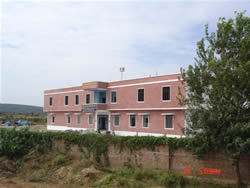 an integrated approach to get the best results in the shortest possible time.
Most of the people in India think that their life has come to an end following such episodes and suffer with depression without knowing the facts that they can very lead a normal life and continue with all the activities if they get appropriate rehabilitation services sooner the best, where physiotherapy plays a major role. We aim to provide such services at this centre with integrated approach by all specialists as required to achieve the best results in minimum possible time. Ten beds in the hospital are being made available for admitting such people coming from far villages as required in local conditions. All consultations will be provided free to poor patients and 20% of beds are kept free too for poor population of Gwalior and Chambal region. Let us congratulate our local team for adding such services and facilities.
"Volunteers day and appeal for School in Snehalaya campus"
Please join us on 21st June 08, the Saturday in London-
This is that time of the year again. We are happy to invite all of you with friends and family to join us for the next volunteers day (it is not only for volunteers as is wrongly understood sometimes, but all supporters, donors, sponsors and well wishers are welcome), being held on 21st June in London, England with food, drinks, entertainment and much more. Several VIPs are invited and expected to join. Please join us for the party in the evening of 21st June 08 from 6 PM onwards. There will be a lot to every ones taste and interest. Venue details and how to reach there will be sent soon to everyone interested to join. Please let us know for the accommodation if you need. There are no charges, but please let us know for the numbers attending to help us organise appropriately and at the earliest please.
As you know the work continues at Gwalior in Central India through hospitals, eye and dental centres, rural clinics, schools and Orphanages to provide for poor, disabled, destitute and marginalised children of India. At present we have 38 children in our "Snehalaya- The home with love", 40 more are expected with completion of five more cottages by May 08. Rural hospital, special need school with VTC, Gaushala, poultry, farms, gardens and orchards continue to grow with growth of Snehalaya within the campus details on http://www.helpchildrenofindia.org.uk with updates on http://gchvols.pbwiki.com Our target for this year is to start an integrated school, including one for special needs for 200 children and the main stream with vocational training centre for 500 girls from surrounding villages, who remain uneducated otherwise undergoing oppression all their lives. We intend following the model of Pardada Pardadi Society's School in Annop Shahar as started by Sam Singh, which we had an opportunity to see few years before. The girls will be provided with incentive of Rs.10 per day for attending the school as well the uniforms, transport, books, food etc, which will give them a start in life after finishing the school to become independent. The project cost is £125K ($250K or Rs. one Crore approximately) and we are sure that all of you will help us generously once again as always to make it happen. We already got pledges for £35K and have started with the plans for the School in Snehalaya Campus. Please be generous and consider maximum as much you can. All funds raised for this years volunteers day or by sale of raffle tickets or any contributions/donations received will go towards this project, unless you tell us otherwise. As you know we use 100% of funds received for the work only as per wishes of the respective donors/sponsors.
On the evening of 21st June, some volunteers will be honoured for their outstanding contributions during the year as volunteers of the year in respective categories supporting this cause, including Seniz Fareida Ibrahim, as fund raiser of the year for raising £9950 and Miss Laura Sikka for being the youngest volunteer during the year 2007.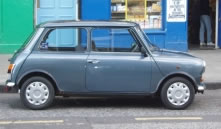 THE 2008 RAFFLE IS ON. GET YOUR TICKETS NOW!
The Lottery and raffle draw will be held during the Volunteers Day evening. First prize is our Heritage Mini or £500, then £250, then £100, then two prizes of £50 each and last five prizes of £10 each.
Lottery tickets are available for sale, each costing £1 or US$2 or Indian Rs.80. You can buy as many tickets you like or donate as much you can and help us complete this work.
You can pay on line now at http://www.gwalior.hospital.care4free.net/donation.html and please let us know by sending an e-mail to gwalior.hospital@care4free.net confirming same for our records. All donors and every lottery ticket will be entered in the raffle draw with an opportunity to win the Heritage Mini car and prizes. All winners will be advised by mail and please do not forget to give us those details as required. If you prefer to send your contributions to help us by post, please send your cheque or CAF Voucher made to "Gwalior Childrens Hospital Charity" to us.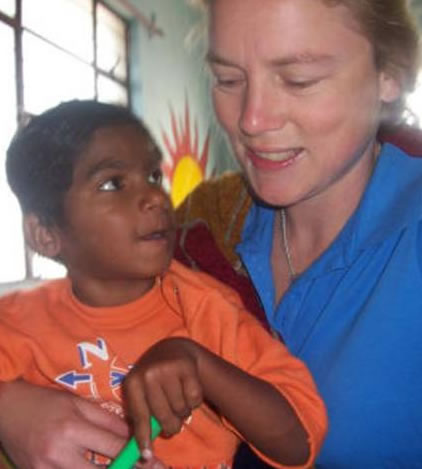 For further information or any questions, write to us or contact us by phone or fax or email.
Cate's Briefing to fellow field volunteers -When you visit Snehalaya think about why you are going and what you hope to gain from the experience? What you have to offer and how you might be able to help out in some small way?
Remember, most of all, that you are in India and don't visit Snehalaya with western expectations. You are in India. Keep reminding yourself how much is being done with few resources, the fact that the staff are providing these children with the first home they have had in their lives, that these children finally have a family and are surrounded by people who care about them.
Standards of care etc may not meet what you are used to in England, the US or Australia, but you are not in England, the US or Australia. You are in Gwalior, India and you are there to provide any help that you can. Some days this may just mean sitting in the lawn playing with children, other days it will be in the classroom. If you find yourself making comparisons between India and home try and stop yourself and remind yourself of places like Mercy Home and where these children would be if it were not for Snehalaya.
Be positive! Remember that you are there for a short stay, the staff at Snehalaya are here long term and * they don't need to hear constantly how things should be changed or should be different. Imagine if someone different walked into your office every few weeks and told you things should be done differently?
Try and learn a bit of the language before you go. Sanjay and Mansi will always translate for you, but you will learn more the more you are able to communicate with all of the staff.
Show initiative! The staff are very busy and you are there to help rather than be helped. Of course, the staff will provide any support and help you need but you will be far more help to the children and the staff if you just get involved. When you arrived and have spent a couple of days at Snehalaya think about how you might be able to help, think about what skills you have and how you might be able to use them. The staff are open to suggestions and will be open to your ideas. You don't have to be a teacher and you don't have to be there to change the world, the first time you put a smile on the face of one of these children you will realise why you are there.
Be respectful, no just of the culture but also of the people you are working with. Just because staff members don't have your qualifications or don't speak English certainly doesn't mean that they don't have a wealth of experiences and information that you can learn from. These carers spend 24 hours a day with groups of children with high special needs and they cope amazingly well. Sometimes it doesn't hurt to remind them of the wonderful job they are doing. It might be what you would expect where you are from, but put it in context and put yourself in their shoes. For the training they have, the experience they have, you will look back after your visit and realise what amazing people these are.
Don't try and 'change' everything, try and help!
What did I get out of the experience? All I can say is that I am going back and I know that I always will. These children will change your life and you will wonder who gained more from your visit. I spent a month at Snehalaya and I am sure I gained more from the experience than the children…… I can't wait to see them again!
Snehalaya is an extremely special place to visit and I would encourage you to see it as a privilege to meet these children. They really are the most incredible young people I have ever met.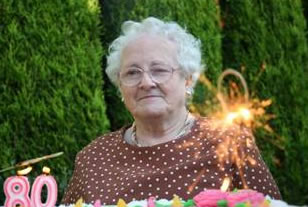 Paggy Halloran, Caroline Regan's Grand Mother, raised funds 's on her 80th birth day for GCHC-
Granny Paggy Halloran decided to raise funds for GCHC for her 80th birth day celebrations on 7th Dec.07 and asked every one to give money to GCHC in lieu of gifts to her and successfully raised £370 to help us to provide for the children in Snehalaya. We are obliged for such a thought and wish Granny the best wishes for her birth day and hope many more similar birth days she will celebrate. Granny is to receive the honour for being the senior most fund raiser for the year 2007 on our volunteers' day 21st June 2008.


Opening of help line and ICTC on 1st Dec. 07, the World Aids day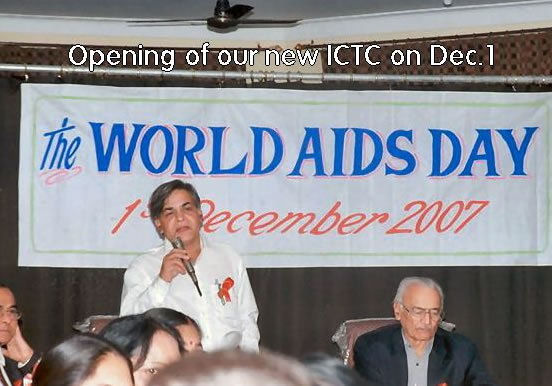 The World Aids day was celebrated on 1st Dec. in Gwalior Childrens Hospital Campus with opening of help line available 24 hours a day , Integrated Counselling and Treatment Centre (ICTC) with video conference facilities and launching of Gwalior network of positive people led and organised by Mr. Snehansu Bhaduri, our volunteer incharge for HIV/AIDS cell. Magdalene from Chennai, Nili from Calcutta, Eric from New York joined us on the occasion through video conferencing while Dr. Chaturvedi from California in USA, Sarah and Daniel from England and Emma from Scotland were present in Gwalior along with many local dignitories, positive people, students and local community including local media and TV channels.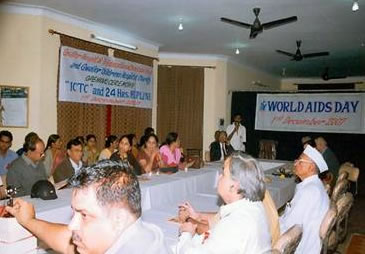 BK happily added that this was a new service being added by Gwalior Childrens hospital Charity to benefit the local community whereby they can avail counselling, consultations and advise for treatment related to any health issues or medical problems from our volunteer experts from any where in India or abroad. We have about 450 experts belonging to various disciplines available by appointment through video conference facilities all 24 hours a day.
Most of our experts belong to United Kingdom, USA, Australia, Canada, Germany, France and from various places in India. Now people of Gwalior can avail services by experts from any where in the World sitting in their own town through this service provided by GCHC, perhaps first in India. In fact any one can avail these services from any where in India or abroad sitting from their own place, if they have computer with web cam and internet service. We have more than 450 experts from India and abroad belonging to various disciplines to provide their time and expertise using skype programme including my self for this service.Various issues related to HIV and AIDS for its awareness, to remove stigma and discrimination were discussed by these experts through video conference facilities.
On this occasion a medical camp was organised attended by nearly 200 people. Free counselling and consultations were provided and blood group and HIV tests were carried out for those who wanted these voluntarily free of any costs.
Lara runs a charity shop to raise funds for GCHC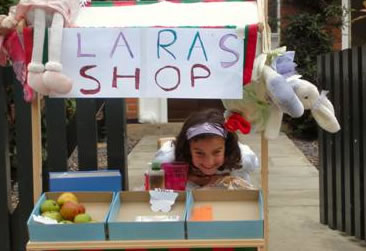 6 years old Lara from Devonshire house school in Hampstead, London arranged for jumble sale of various things to raise funds for Gwalior Childrens hospital Charity to provide for poor and underprivileged children in India. She successfully raised £150.00. Congratulations to Lara for successful fund raising, such considerations and thoughts at such a young age and to her parents too to instil such views. Lara has also recommended to her school committee to adopt GCHC for school's preferred charity for next year. We are happy to announce that Lara stands nominated for being the youngest fund raiser of the year for this year and will be honoured on volunteers day on 21st June 08. We wish we had many more similar fund raisers to help us carry this work forward.

---
Snehalaya- the home with love is open now, but we are not stopping here!!!
IT WAS AN OCCASION TO REMEMBER
I am very happy to inform you that inauguration and opening ceremony of 'Snehalaya' was held on 23rd Aug. 06. It was wonderful with Tom Alter, the famous international film actor and celebrity as special guest and Mayor of Gwalior as our chief guest with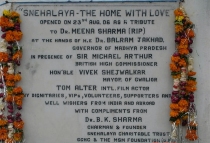 The stone which commemorates a
very special occasion

Anne Goring and Alen Whybrew representing UK and Isle of Man on the dias with me in presence of many volunteers and supporters from overseas and India along with local dignitaries, supporters, family and friends. Unfortunately HE Balram Jakhar, the Governor of M.P. could not join us in person due to illness but was with us in spirit with his telegraphic message and best wishes. The speech by Bonny was very touching telling our true feelings for this work at Snehalaya having gone through torture in Mercy Home for last four years, which became more effective with its translation in Hindi/Urdu by Tom Alter, our new volunteer and Ambassador. We are obliged for your support, without which it could not have been possible to make this dream come true even to this stage.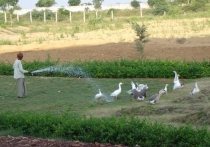 Much fresh food is already coming from
our own gardens.
At present we have 32 children and a total of 70 residents including volunteers. All this is in ten acres of land --the rest of which is reserved for beautiful lawns, garden, farms and orchards. Many of these facilities are open to children from the local community during day time. It has been totally designed as a place for community living --- a Care Home for disabled and destitute children, homeless women and the aged, where all live together with love and happiness. Our aim is to make them independent and to be able to live with dignity.

A TYPICAL DAY AT OUR NEW CARE HOME
Our programme starts at 6.30 am with yoga and meditation and ends at 9 pm with children going to sleep.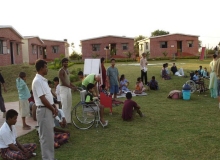 Playing games encourages our community
to get together

The School, Vocational Training Centre with physiotherapy and health centre are open from 9am to 6pm. Play activities are organised with children from 4 pm till dark. Everyone from local community is welcome to join us for whatever time they like or can afford to help us in taking care of these children and taking this work forward as per their abilities, preferences and convenience.



A V.I.P VISIT FROM SNEHALAYA'S NEW PATRON

We enjoyed a visit from H.H. Jyotiraditya Scindia, Member of Parliament and Maharaja of Gwalior, on 1st Oct. as he could not make it on 23rd Aug. Part of his comments are worth repeating here... "I have not seen such a beautiful place for children with disabilities any where in the world, wherever I have been". About our facilities he said, "Multi-sensory room is unique facility here and is much needed ....not existent anywhere in India as far as I know, having seen many facilities in India".  We are happy to add that HH Jyotiraditya Scindia has consented to be the Patron of Snehalaya and we are sure that we shall be benefited with his blessings and Patronage to take this work further and may be bit faster too.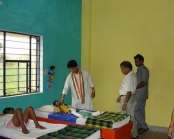 A visit from H.H. Jyotiraditya Scindia,
Member of Parliament and
Maharaja of Gwalior
HOWEVER WE ARE NOT STOPPING AT THIS POINT!
Plans for starting second phase with a 30 bed hospital, accommodation for staff plus five residential houses for 40 more children are already finalised and being undertaken. We aim to complete them all within one year. So far we have received funds from two sponsors for two houses. As soon as we receive funds for other three houses (£5000 or $10000 to sponsor a house or £1500 or $3000 for a room or equivalent in local currency), we shall start building another row of five houses to accommodate 40 further children. More importantly funds are required towards maintenance of ongoing work and the need is urgent to sponsor children resident there. Just £10 or $20 per month and or £1000 or $2000 (or equivalent in any currency) once only will provide an opportunity for such a child to live with love and dignity. Please send your cheques made to Gwalior Childrens Hospital Charity- Snehalaya appeal". You may find it easier to pay on-line through the secure donation link or click on this link now. 
We welcome volunteers from all walks of life to work with us at our facilities at Gwalior and our new "Snehalaya" to help train our local staff and students as well provide their services to the children and community there. Students and trainees are welcome to gain experience.

ON THE VOLUNTEER FRONT
On the Volunteer front we are obliged to Katie Elliot who having worked with us as volunteer for four months this year, wrote a booklet summarising the work and needs of GCHC and Snehalaya which has raised £11,500 so far and it still continues. Katie is very likely to be honoured as Volunteer Fundraiser of the Year.
Richard Lewis Levin went for a 77 mile long walk through high hills in Scotland raising more than £3800. Megan Embers had organised a music concert raising $US1000 dollars. Many other volunteers and supporters continue to help us in these endeavours in many ways and it is difficult to name every one.

OUR SOUVENIR SHOP OPENS
We have lot of handicraft items available through our new Souvenir shop at Snehalaya. Most of the items including greeting cards, candles, envelopes, carrier bags etc. are made by the children with disabilities and all money goes to provide for them only. Please place your orders today through our Volunteers website (just click on Souvenir Shop).
---
Fund raising and volunteering
Our volunteers continue to help us at Gwalior in carrying this work forward with their skills and hard work as well by fund raising with publicity in their respective places as much they can. We depend upon volunteers only for all funds required and the publicity mostly by word of mouth as we can't afford for costly advertisement and do not get any help from Government or big organisations. We look for all the support from people from all walks of life to help us carry this work forward to help and provide for poor, disabled and destitute of India. Please see our pbwiki for updates and current events where you can discuss among each other as well put your views, comments, questions and suggestions on http://gchvols.pbwiki.com
| | |
| --- | --- |
| Volunteers at Gwalior | Amy Slater participating in London Triathlon raising funds for GCHC |
| | |
| --- | --- |
| Volunteers at Snehalaya | Preritha Desikan, our youngest volunteer raising funds for GCHC |
You can design your personal fund raising page for any event or occasion to raise money on line to help us in this endeavour at http://www.justgiving.com/gwalior/raisemoney/ and never hesitate in contacting us for any questions or further details or if you need any help or guidance for any thing as required by phone/ fax/ writing or emailing us Gwalior.Hospital@care4free.net