Background
Dr B. K. Sharma, the inspiration behind this work, is a Paediatric Surgeon currently working in the British NHS. Born in Morena, India, the son of primary school teachers, he was educated at Morena, Gwalior and Bombay in India and later in England. Having seen and experienced the sufferings of poor people as one of them, but fortunate to have gone out and find success in the western world, he wanted to establish a hospital back in his hometown of India. His vision has been to set up an institution which could provide health education and high quality medical services to the under privileged section of the society especially to poor, needy, disabled and destitute children, women and old there, the most neglected ones.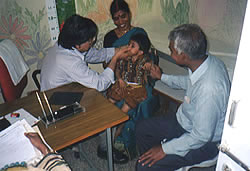 Dr Sharma, hard at work
Gwalior and Chambal region (population of nearly 11 million, some 90% rural and remote cut off from urban stream) is one of the least developed areas in central India, rendered further backward by centuries-old dacoity problems, exploitation of lower strata and land eroded by chambal and sindh ravines, where farming alone has been and is at present the main occupation of its people.
The health profile of rural population is pathetic especially of rural women and children. The delivery system is in pits. People are not aware of their health needs, the importance of hygiene, sanitation and family planning etc. Most of the villages are bereft of basic medical facilities, deaths occurring due to non-availability of doctors and even ordinary medical care, even at block level, where Government-run primary health centres remain unmanned. Often women and young girls deliver babies and breathe their last in tractor trolleys on way to a health centre or hospital and babies die before they had opportunity to see their mothers. Infants and children die for the lack of medical care otherwise curable. Malnutrition is rampant, leading to many chronic diseases otherwise preventable. Poor hygiene and sanitation with impure water-born infectious diseases contribute to numerous deaths. Xerophthalmia, trachoma, night blindness etc. are some of the common preventable eye problems leading to the prevalence of blindness. Many suffer with refractive problems but can not afford spectacles or suffer from cataracts needing surgery they cannot arrange. These poor innocent people fall prey to quacks and touts working in each and every corner for lack of education and awareness. Mismanagement, bureaucracy, red tape and corruption at all levels worsen the scenario.

| | |
| --- | --- |
| Visiting the Neonatal Intensive Care Unit: November 2000 | Our volunteers, out in the field |
With this background the U.K. registered charity Gwalior Childrens Hospital along with Gwalior Hospital & Education Charitable Trust and Gwalior Health & Education Society (registered charities in India) were created with a commitment to serve this region. These trusts have provided education and medical services to fulfil the basic essential necessities for the poor people there (which are taken as granted in the western world) in Gwalior and Chambal region, to its urban slums, rural and remote village population for the last five years ... read on for further details
In addition to health and education, now we are working for integrated rural development in 40 villages surrounding Snehalaya to include health, education, sanitation, hygiene, safe drinking water and income generation opportunities to make living better and dignified for the poor people there esp. for the children, women and the aged.