Introduction and so far
A Non Profit Non Government Organisation with Tax Exempt Status with Tax Benefits to the Donors in U.S.A., U.K., and India.
Gwalior Children's Hospital is a registered charity in U.K., working in association with Gwalior Hospital & Education Charitable trust and Gwalior Health & Education Society (registered charities in India) established to help and provide for poor, disabled, destitute, vulnerable and underprivileged people especially children, women and old of the Gwalior and Chambal region, one of the most deprived regions in India. Gwalior is one of the most backward and poverty stricken regions in Central India. Gwalior has been famous for its Dacoits and Chambal Ravines that have been characterised by the exploitation of the lower strata of society. Within a population of 11 million (1.5 million urban and 9.5 million rural) there are 6 million children, 90,000 being disabled and mostly abandoned even by their parents having to survive briefly by begging and scavenging.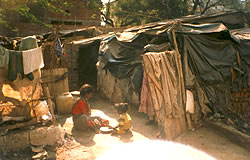 Living conditions
Most of the children are deprived to an unimaginable degree, as there is no education, little food, endemic diseases, high levels of disability, parental rejection and working from as early as 5 years of age or begging/scavenging for their survival. There is no help for them and no hope either, as children's affairs have no priority.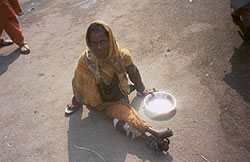 Disabled child
The charity is the inspiration of such a child of Gwalior, who was fortunate enough to have come out of Gwalior and achieve things in the Western World...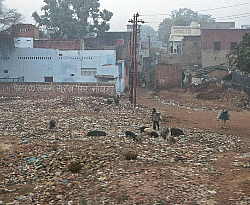 Children scavenging , only way of survival for them.
The charity is the inspiration of such a child of Gwalior, who was fortunate enough to have come out of Gwalior and achieve things in the Western World...
Dr B.K. Sharma, a NHS Doctor in the U. K., is that inspiration supported by some of his colleagues, friends, family members, volunteers and supporters who help and provide for these poor, disabled and destitute children as well as the other poor people of Gwalior and in its slums, rural and remote areas where no such facilities exist. Dr. Sharma received honour of the year award in Jan 2002 at the hands of Walsall Mayor and has been highly commended for the Beacon award in 2003 recognising his efforts and this work. We aim to give love, hope and happiness to as many of these children as possible with your help and support through this charity.
These charities have been working in Gwalior and adjacent chambal region, its slums, rural and remote areas for last five years through its hospital facilities gradually expanding to include the Hospital for Children and Women, the Ophthalmic centre, the general hospital, the mobile hospital "A real hospital on Wheels" and 14 rural health centres. The hospital is purpose built and is equipped with state of art facilities for neonatal care and childcare in addition to other facilities. A free OPD manned by specialists in various fields is run daily. Investigations, hospitalisation and operations are provided at minimum basic costs to meet the expenses to everyone attending. The poor, disabled and destitute children are provided all these facilities absolutely free of any charges. Other poor people are provided these services with discounts of even the basic costs as much as possible. We will not like to refuse any poor person for free treatment, but sometimes hard decisions are taken to for lack of funds, though we try with our maximum efforts within our limited resources. The hospital provides emergency services with ambulance facilities 24 hrs. a day, 365 days a year. The hospital has been recognised by the Gwalior administration and Police department appreciating emergency and trauma services provided by this hospital. The hospital's eye centre and its Ophthalmic services have been recognised by The Society for prevention of blindness and Help Age in India for the work towards prevention of blindness and saving sights.
| | | |
| --- | --- | --- |
| | | |
Specialised medical camps and eye camps are organised in slums and remote villages with emphasis on health education for prevention and early diagnosis, to create health awareness, to provide consultations, advise, treatment and operations by specialists for these poor people there at their door steps. Volunteers from U.K., U.S.A., U.A.E., Australia, Canada, France, Germany, Belgium have worked there to help train our local staff and students and provided their services to the community with their expertise in the respective disciplines. Many students and trainees from these countries have gained valuable work and life experience too, much different than that what they are used to.
| | | |
| --- | --- | --- |
| | | |
Sunrise International School (a main stream school with special needs group) initiated in year 2001, is providing education to such children with aims to establish the Orphanage with facilities for vocational training and rehabilitation to such disabled and destitute children to help make them independent and able to lead their life with self esteem and dignity.
| | | |
| --- | --- | --- |
| | | |

981 children in various schools and existing Orphanages in Gwalior are being supported for their education and health care through this charity and some for their total maintenance expenses. For last two years we have been working in Mercy Home, a Govt. run Orphanage for children with profound learning disabilities and mental illness. We are actively supporting there with volunteers input, providing extra carers improving living conditions with dining and play facilities and supplementing provisions with milk, fruits, toys, clothes, bed linen etc. But this is not sufficient due to bureaucracy, attitude, work culture and corruption among present Govt. staff.
| | | |
| --- | --- | --- |
| | | |

Hence we have proposed to take total responsibility to manage this orphanage to provide a life with love and happiness to these children there without any financial help or support from Government asking Govt. authorities to withdraw their staff. At present our proposal is under consideration at ministry level having been approved by local authorities, administrative and other departments.
We have initiated the building of our own Orphanage. The foundation stone for the Orphanage, "SNEHALAYA-the home with love" with a proposed school and vocational training centre was laid on 13th Nov. 04 at the hands of Mr. Narayan Singh Kushwah, the minister for Social Welfare, Govt. of Madhya Pradesh, India in presence of Dr.B.K.Sharma, our founder trustee, other trustees, advisors, guests and supporters including 15 volunteers from Scotland, England, Ireland, Australia, U.S.A. and Switzerland.

Laying down the foundation stone for the
Orphanage Snehalaya.

Our volunteers, guests and supporters on 13th
Nov. 04.

We took this step forward for the sake of the children at Mercy Home and on the streets despite a shortage of the necessary funds. We made this decision relying upon your generosity and future support as we have received this far. We pledge to have the work completed by Nov 05 and will be ready to accept children into "SNEHALAYA" where we can offer these underprivileged a life with love and happiness and the opportunity to become independent to be able to live with dignity and self esteem. Our target for completion of the first phase of this work stands at £100K; however we are currently short by another £40K. We ask you to please be generous this year and help us as much as you can in order to complete this work. A mere £10 per month or equivalent in any currency will provide home, food, education and health care to such a disabled child in India giving him or her new life or just £1000 once.

The entire facility has been established without any financial support from the government of India or any other local sources. Dr. Sharma has invested from his own resources. So far, the hospital is doing a fine job, but Drs. Sharma have been providing £2000 every month from their own resources. However, now the charity is struggling and finding it very difficult to meet the operation, maintenance costs for the ongoing facilities and services. We request and appeal for your help and donations, however small it may be.
Please donate now through our secure donation site on line.